Our Product Manager Elliot Fairlie outlines how you can update your kitchen on a budget over the Bank Holiday weekend:
"You don't need to completely renovate your space to get that new kitchen feeling. A few relatively simple changes can make a noticeable impact on the look and feel of your space, whilst being a cost-effective alternative to a full renovation.
1. Perfect your paint
"There is no better way to freshen up a space than adding a lick of paint. Whether you opt for calming neutrals or striking bolds, re-painting the walls in your kitchen can transform the space without breaking the bank.
"A fresh lick of paint can really freshen up a room, giving it a new lease of life. If you're working with a small space, or prefer to keep things neutral, dove grey or light caramel hues can provide the perfect backdrop for cooking meals and spending time with the family.
"If you're looking for a bolder change, why not opt for a brighter hue, or something darker like a forest green or midnight blue? Making a drastic colour change can completely change the feel of the space, but make sure the colour you pick compliments your current kitchen fittings if you're not planning to update them.
2. Switch up your kitchen splashback
"For instant impact, consider replacing or installing a new kitchen splashback behind your sink and hob. Tricky tiling and grubby grouting can easily be avoided by opting for an aluminium kitchen splashback, such as the Alloy range from Bushboard, which is available in a variety of beautifully patterned designs and finishes. "The benefit of opting for this type of splashback is that they can be easily cut to fit your desired size and shape, meaning they're easy to install in any area of the kitchen – regardless of its shape and size. They're also simple to clean and maintain, making them perfect for busy households.
"The joy of aluminium options is that they can be cut, drilled, and shaped to fit required measurements using standard tools – making them the perfect DIY update. The lightweight design also means they are easy to manoeuvre into place and because the panels come as solid, opaque pieces, they can be effortlessly fitted over unfinished surfaces. This makes for a much quicker update than a tiled equivalent, without involving too much disruption.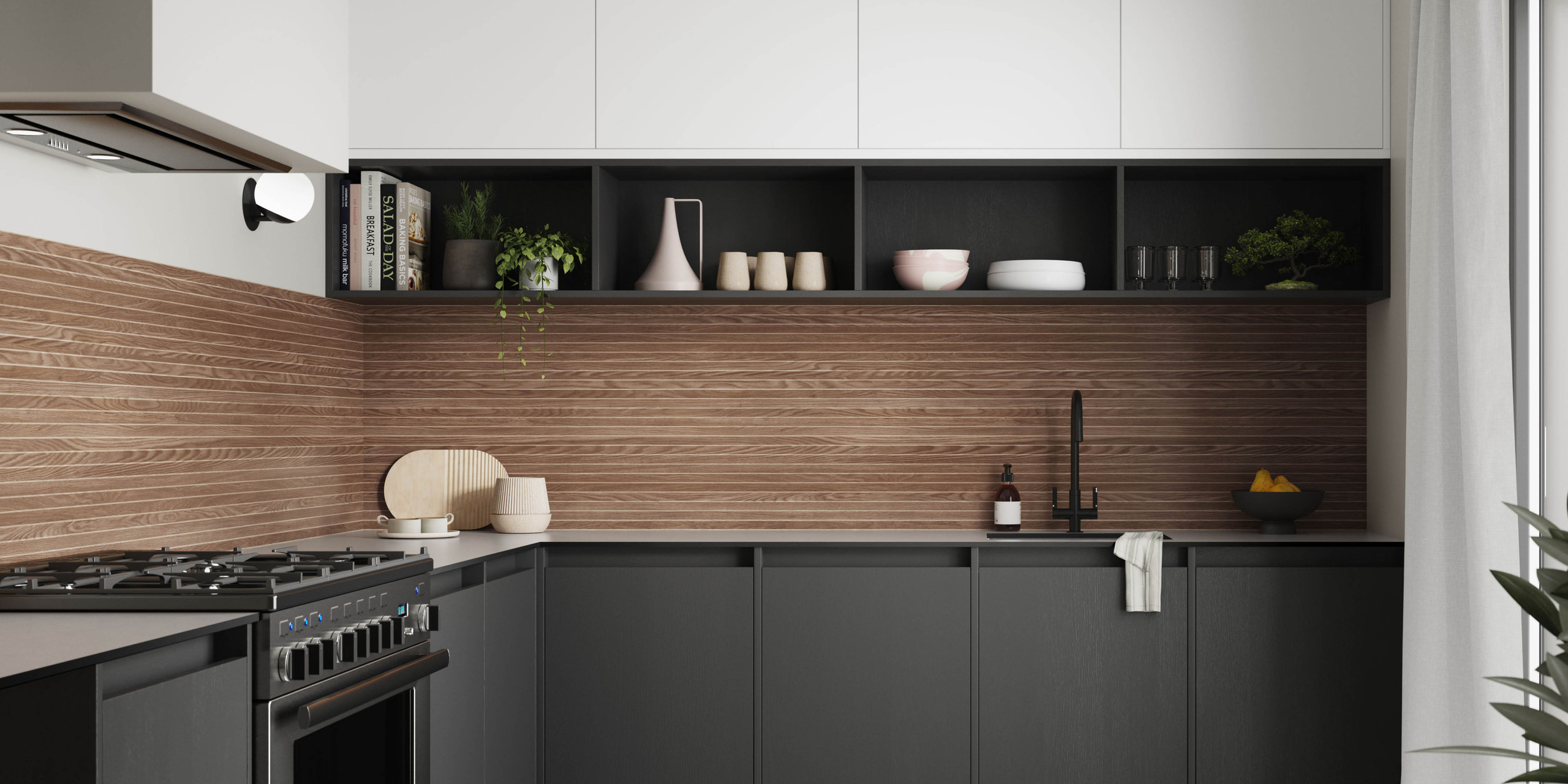 3. Worksurfaces with the 'wow' factor
"Bring your kitchen back to life by replacing tired worksurfaces. Compact laminate worktops are a great option if you're looking to achieve a high-quality look for less, as they can have a huge influence on the look of a kitchen without ripping it out and starting afresh.
"Compact laminate worktops are fully waterproof and boast realistic stone textures for a fraction of the price of the raw materials they emulate. An ideal solution for family kitchens, this type of surface is hardwearing and easy to care for, too.
"For a seamless look, continue the surfaces up the wall as a sleek-looking upstand or splashback. This is something a tradesperson can help fit and can be done in a day's work.
4. Accessorise with style
"The little touches can often have the biggest effect,
so if you are time-strapped, consider paying attention to
the smaller details in your space, such as soft furnishings, artwork or furniture.
"Accessories are a great way to add a pop of colour to the space without any commitment, so be fun and bold with your choices – you can recycle into another room if you fancy a change next year.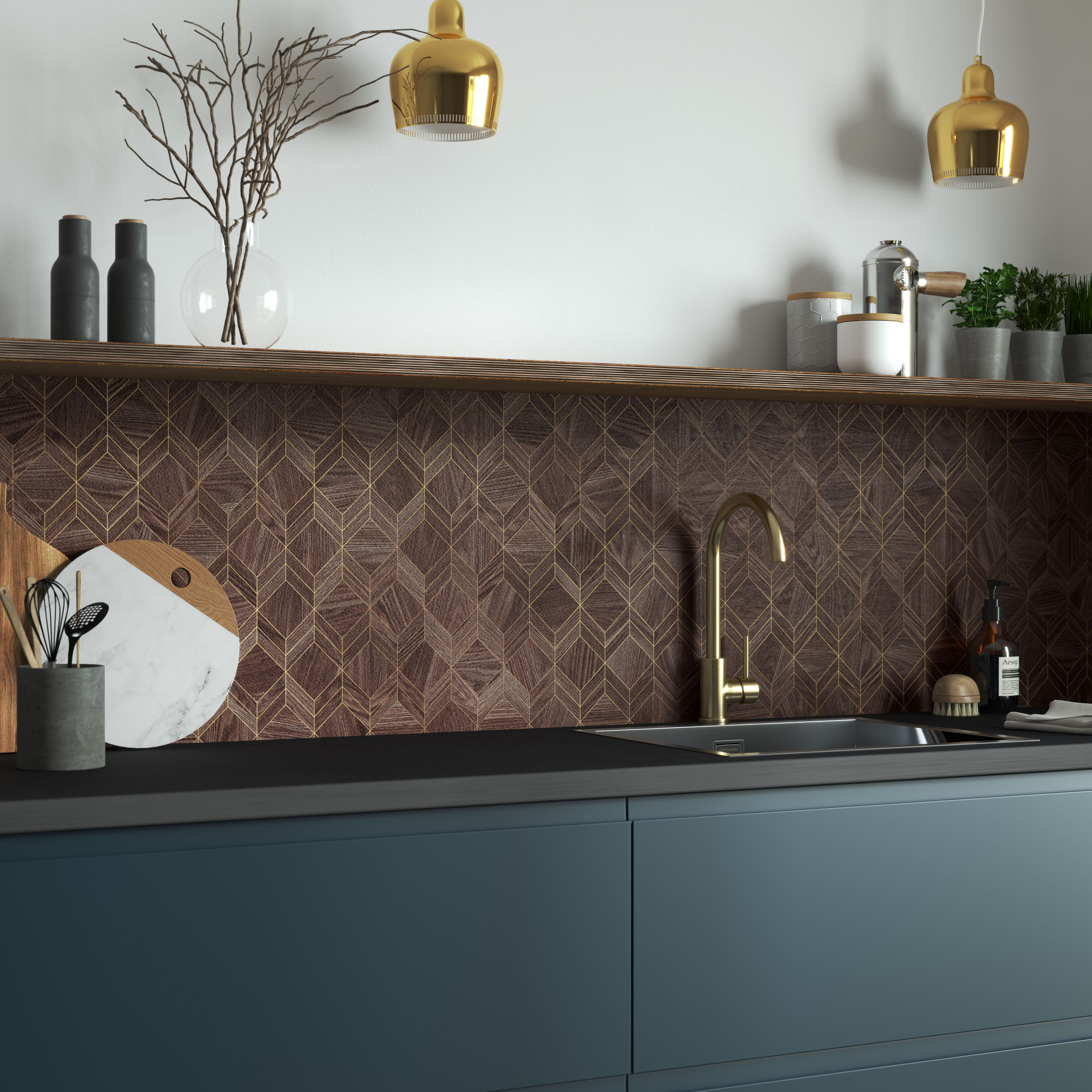 5. Instant illumination
"Wireless innovations make it easier than ever to install and control lighting – even DIY novices.
"Rearranging existing sources or incorporating additional features will improve the ambience of the space – especially as we move into autumn.
Under-cupboard spotlights are a great way to not only set the mood,but illuminate spaces that you may want to draw attention to, such as stand-out worksurfaces or strategically-placed accessories.
"Strip LEDs are another handy addition to create impact under worktops or shelving, with plinth lighting
providing the opportunity to layer illumination in all areas of the kitchen.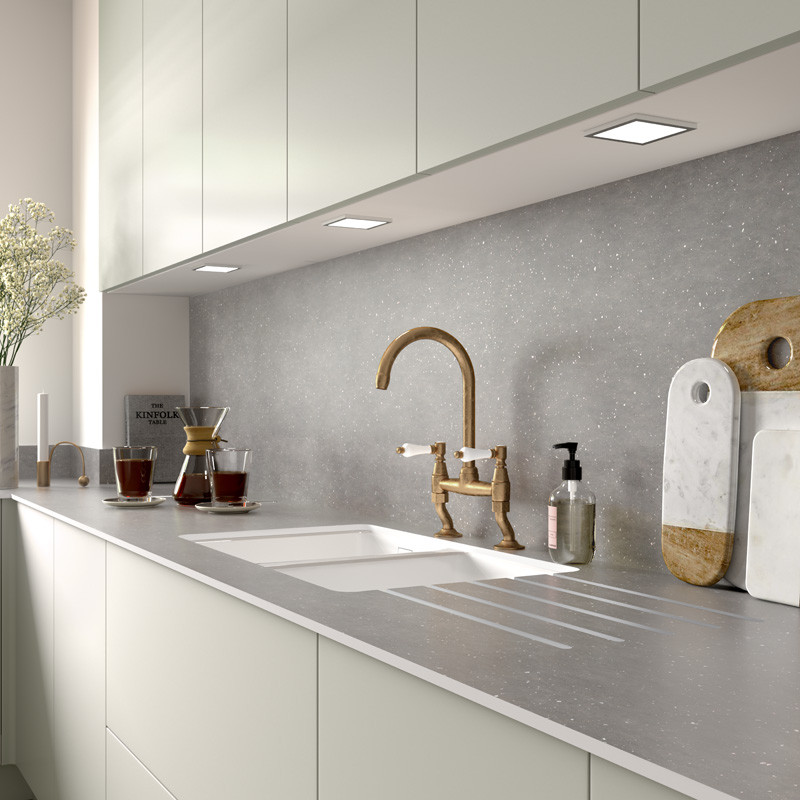 6. The devil is in the detail
"Swapping out the hardware on kitchen cabinets and sinks can transform your kitchen in moments. These small changes can greatly impact your kitchen to create a cohesive and well-put-together scheme.
"I'd always recommend co-ordinating these elements for a consistent look. Whether you opt for brushed brass, stainless steel, matt black or copper – ensure this finish is the thread that ties together any metallics in your kitchen's design scheme."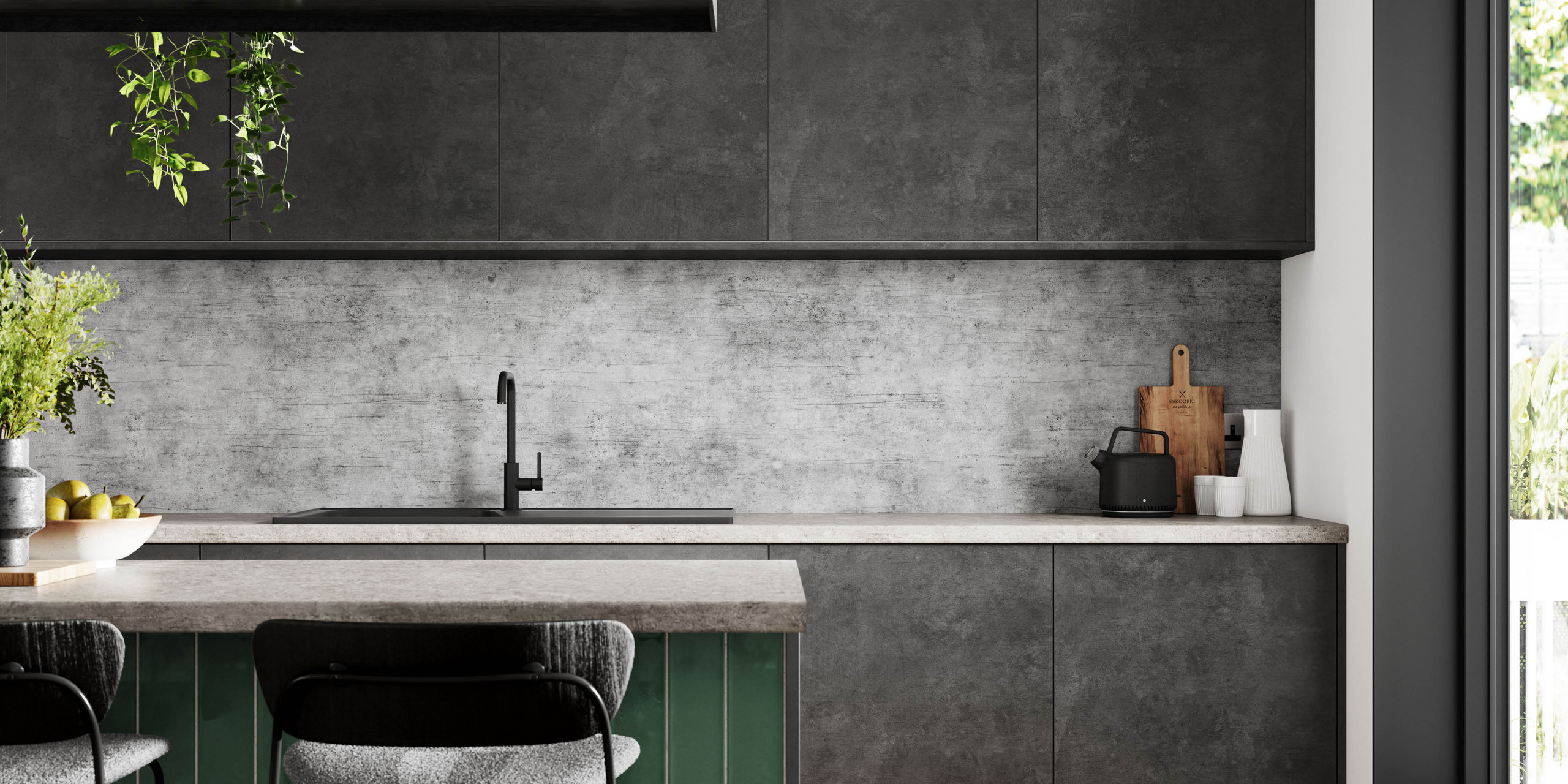 For more information, take a closer look at our collection of kitchen surfaces or find your nearest retailer.