The kitchen is the most used room in the house. Take a minute to think about your kitchen, you soon realise it's a multiple purpose room. It's where you gather with family and friends to catch up over a cup of tea or two, do homework with the kids or create meal masterpieces. Your kitchen has been through a lot over the years and it's beginning to show.
If you find yourself watching more and more Your Home Made Perfect, googling "kitchen renovations" and "kitchen trends" – it's safe to say, your kitchen doesn't do it for you anymore. There is nothing wrong with your kitchen per se – it's just lost its mojo. But before you break out the sledgehammer and spend a bucketload of cash renovating a perfectly functional kitchen, there are several ways to simply update your kitchen on a budget.
Update your kitchen walls
Swap your faded tiles for a fabulous pattern splashback to instantly add an interesting feature. Aluminium splashbacks, such as those available in our Alloy range, can add a gorgeous touch of colour and pattern to your kitchen. And even better, they are straight forward to install by any confident DIYer using standard tools, saving the cost of a kitchen fitter.
Thanks to its 4mm composition, products in this range can be easily cut, drilled, and shaped to fit required measurements. And because these splashbacks come as solid, opaque pieces, they can be fitted over level, unfinished surfaces too. This makes for a much quicker update than tiles with less downtime.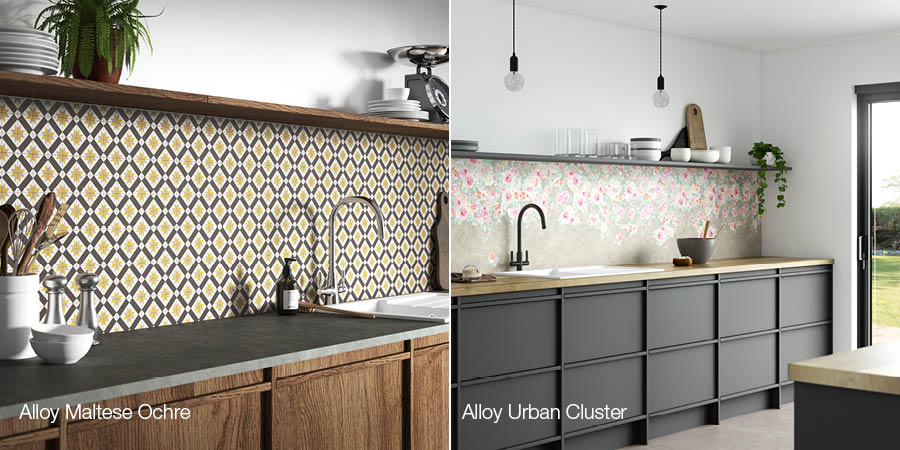 Replace your worktops
Changing your worktop is a quick and easy way to instantly update your kitchen and take it from tired and overworked to fabulous in days if not hours. Worksurfaces are the secret to elevating the look and feel of a kitchen. Whether creating a pared-back style, or a bolder scheme, selecting the right worktop – or indeed, the best combination of worktops – is key to tying the whole look together.
With new printing techniques and technologies, laminate worktops can replicate the look of wood, marble and concrete for less. Opt for a new laminate worktop, to get the luxe look on a budget. The latest collection of laminate worktops within our Options and Omega ranges are also available with matching breakfast bars, upstands and splashbacks for a consistent look and a custom fit. And because laminate worktops are readily available and inexpensive, they suit those on a budget and a time crunch.
For more information and to find your nearest retailer, please visit: www.bushboard.co.uk