New trend alert! The New Elegant. Think largescale marble patterns mixed with earthy tones. So, how do you create this look? In the kitchen, pair the most popular cabinetry colour – white, with marble and wood.
Here, our design experts select their favourite Bushboard surfaces to help you achieve the look.
Alloy White Marble
With a white backdrop and striking grey veins that sprawl its length, the realistic White Marble splashback is a beautiful alternative to tiles or real marble, and a luxurious statement to complete any kitchen. The High-Rise splashback's 750mm height safely fills the entire space behind the hob between worktop and extractor hood with no need for any unsightly metal panel or toughened glass splashback to interrupt the design.
Omega Brasilia Roche
Paired with Alloy White Marble above, Brasilia Roche is a dark stone laminate worktop design with a Roche texture for a subtly raised pattern that feels like natural stone. Finished with a true square edge, Brasilia is a realistic stone replica, but in laminate, so much easier to move, fit and look after.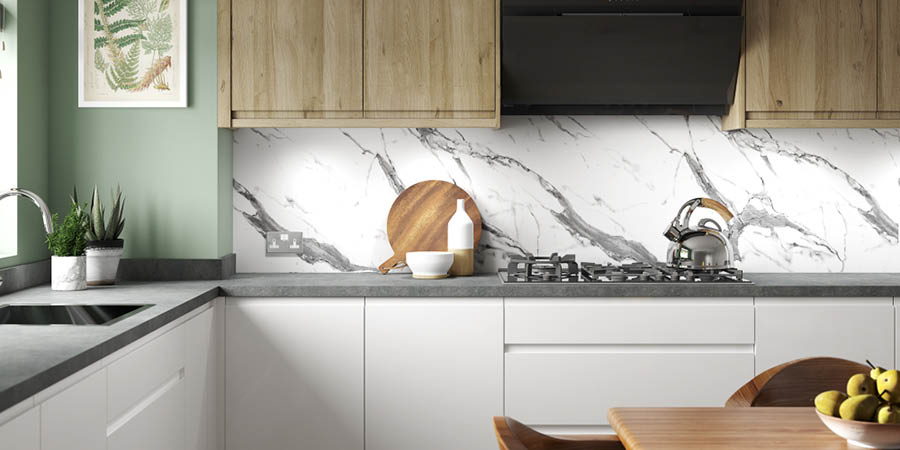 Options Brocante Oak
Brocante Oak is a dark brown, planked timber design, crafted to replicate the knots, lines and natural flaws found in real wood. Ultra matt in finish with a coarse feel to touch, creating a distressed wood effect.
Alloy Walnut Geometric
A beautiful combination of classic wood and contemporary geometry, Walnut Geometric is an abstract linear pattern in black, over a warm timber backdrop. The result is a statement alternative to a tile splashback with fascinating depth, a beautiful nod to mid-century influences.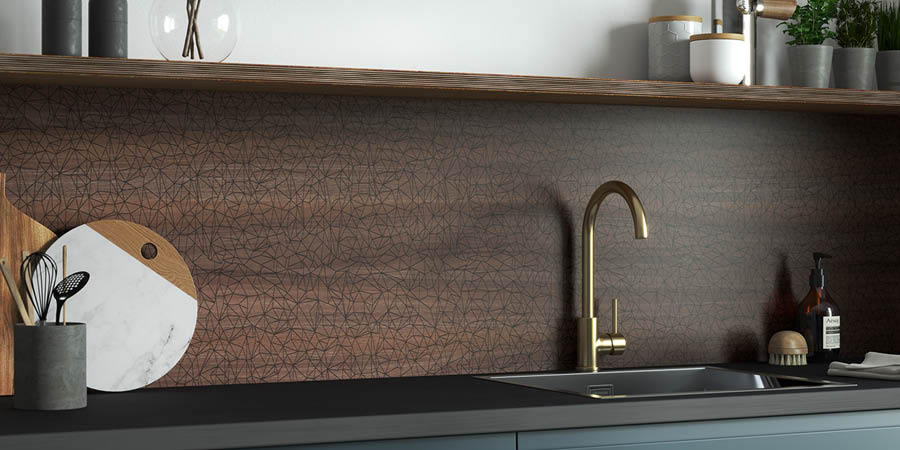 Zenith Mabre Veneto
Designed to look, feel, and perform like stone, Zenith worktops are super tough and super stylish, with all the benefits of laminate - easy to move, cut, fit, and maintain. The Marbre Veneto worktop is a white and grey marble design with realistic, sweeping veins and a solid, waterproof white core so it looks like marble all the way through - ideal for accommodating flush undermount sinks and engraved drainer grooves.
These are just a few of Bushboard's surfaces that are perfect for helping you achieve the look of New Elegant. Explore the whole Kitchens range from Bushboard to find more surfaces that matches this trend. And don't forget, you can find your nearest Bushboard retailer and see the ranges in person by click here.
We would love to see your finished projects, share your kitchen makeovers using @bushboard and #bushboard.