For many of us, 2020 was an exhausting rollercoaster of isolation and hyper-connectivity. Collectively, we spent more time than ever in the house but we were constantly "switched on" – watching Netflix, working online and quizzing on Zoom. There's no wonder "Disconnection" is a key kitchen trend for 2021: it's all about switching off.
As a design theme, Disconnection is an organic progression of trends we've seen grow in the last few years – calling on nature for shapes, patterns and textures inspired by stone, wood and marble. Colour palettes combine soft hues of grey, beige and cream; accessories are functional and fabrics are invitingly soft.
An overall feeling of cool and calm settles over a Disconnected kitchen – getting back to basics, taking it slow and creating a space unharried by digital noise.
In open plan spaces, zones for cooking, eating, working and socialising are clearly defined with cleverly placed slimline surfaces – for example, a breakfast bar that and acts to join or separate a cooking space from a living space, depending on how it's used at different times of day.
The "Disconnection" trend invites design innovation; the combination of realistic textures, natural patterns and creative spacing can really bring the outdoors into a space that caters for family life and all its modern nuances.
With Options and Omega worktops, you can enjoy beautiful, naturally inspired stone, wood and marble finishes with all the benefits of laminate. Bushboard worksurfaces are all supplied with Antibacterial Protection as standard, so as well as being easy to move, cut and fit, they're also equipped to stop the growth of up to 99.9% of bacteria.
Below, our design experts have selected 5 worksurfaces perfect for a Disconnected kitchen design.
Woodstone Grey 38mm Postformed Options Worktop & Breakfast Bar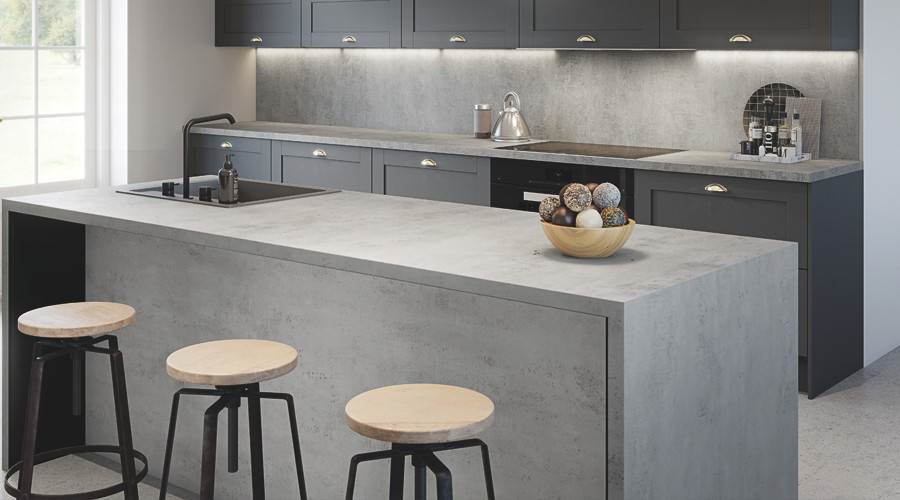 Woodstone Grey is a light grey stone design, crafted to look like poured concrete with naturally occurring patterns and imprints – finished with a Roche texture for an uneven feel that recreates the surface depths found in real stone.
Pitch Pine 38mm Postformed Options Worktop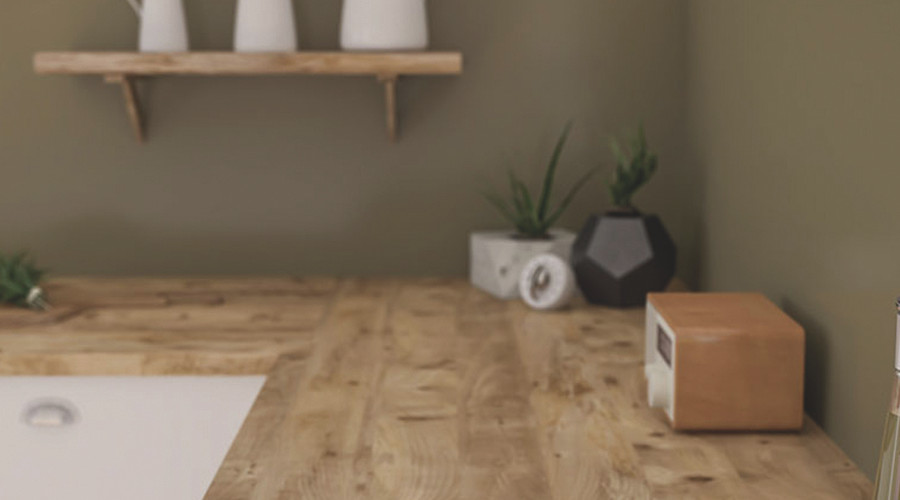 Pitch Pine is a light brown, planked timber design, crafted to replicate the knots, lines and natural flaws found in real wood and the ideal way to bring pared-back Scandi vibes into a Disconnected kitchen design. Finished with an Ultramatt texture for a matt appearance and coarse feel to the touch, creating a dressed wood effect.
Unburnished Grain 38mm Square Edge Omega Worktop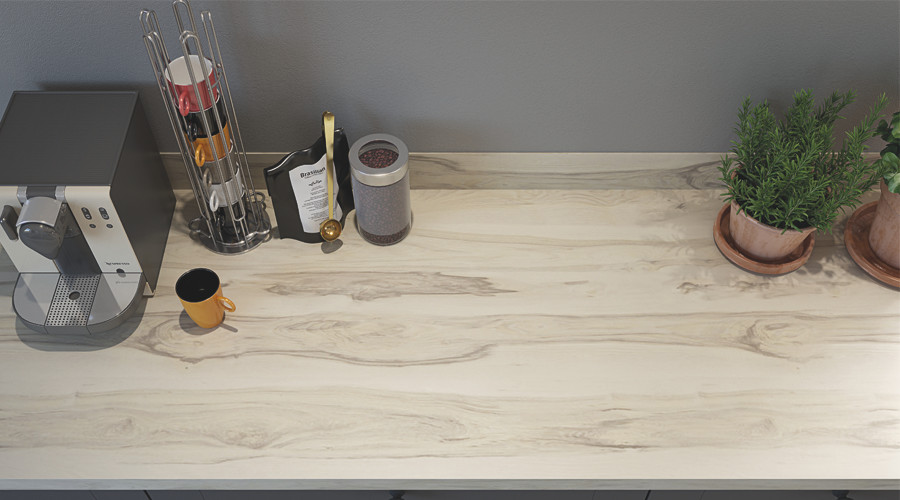 A realistic pale wood design, Unburnished Grain looks like planked, untreated wood with the pronounced knots and lines found in real timber. With an Ultramatt texture and true square edge, it looks and feels like real wood but is easy to clean and maintain.
Grey Chalk 22mm Square Edge Omega Worktop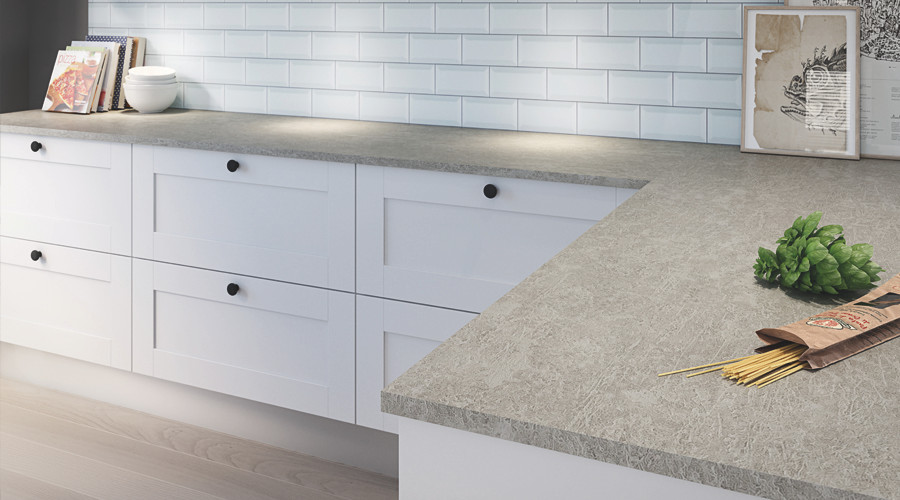 Grey Chalk is a light stone laminate worktop design with in shades of grey - a mid-tone backdrop featuring natural-looking veins and movement in white. Grey Chalk surfaces are crafted with a Roche texture for an uneven feel that creates the surface depths found in natural stone, and have a 22mm thickness with true square edge – for a hyper realistic, slimline finish.
Murano Marble 22mm Square Edge Omega Worktop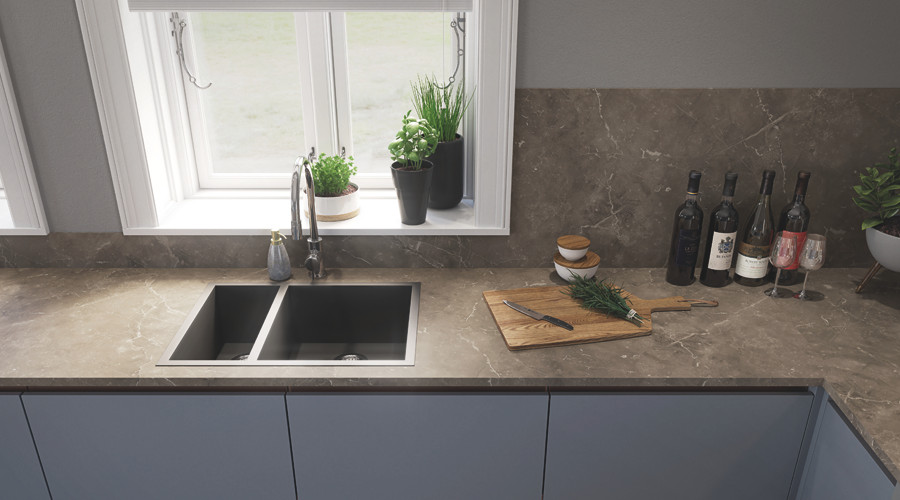 Murano Marble is a dark marble design, crafted in grey with white flecks and veins – the 22mm thickness, true square edge and Matt texture create a real marble effect, but with a faster fitting process and easier maintenance.
What do you think? Let us know which Options or Omega surfaces you use for your Disconnected kitchen! Don't forget that all of our Options and Omega designs are available as worktops, breakfast bars, upstands and splashbacks.
You can browse the whole Options range here, and find Omega surfaces here. Don't forget to connect with us on Instagram using @bushboard, and share your projects with our community using #bushboard.